IonPro™ Blow-out Brush
Regular price
$78.00 USD
Sale price
$46.00 USD
Unit price
per
Sale
Sold out
*Limited offer - whilst stocks last*
Do your salon blow-out, at home.
The IonPro™ blow-out brush is a unique 2-in-1 styling tool that provides the power of a dryer and the volume of a styler.
Get salon results in the comfort of your own home, with 22% more shine and 36% less breakage.

Curl. Wave. Smooth. Dry

Engineered to curl, wave, smooth and dry hair without extreme heat. The ionic technology lets you glide through your hair effortlessly whilst resulting in less frizz and more shine and healthy hair.
The ceramic technology helps reduce damage from over-styling with even heat distribution, making styling your hair easy and effortless.


By combining moisture in your hair with powerful airflow and controlled heat, the IonPro can style and dry at the same time. With no extreme heat.
OUR GUARANTEE
We truly believe in our quality, that's why we provide a lifetime guarantee on your IonPro™ so that you can shop (and style your hair) with ease of mind.
Share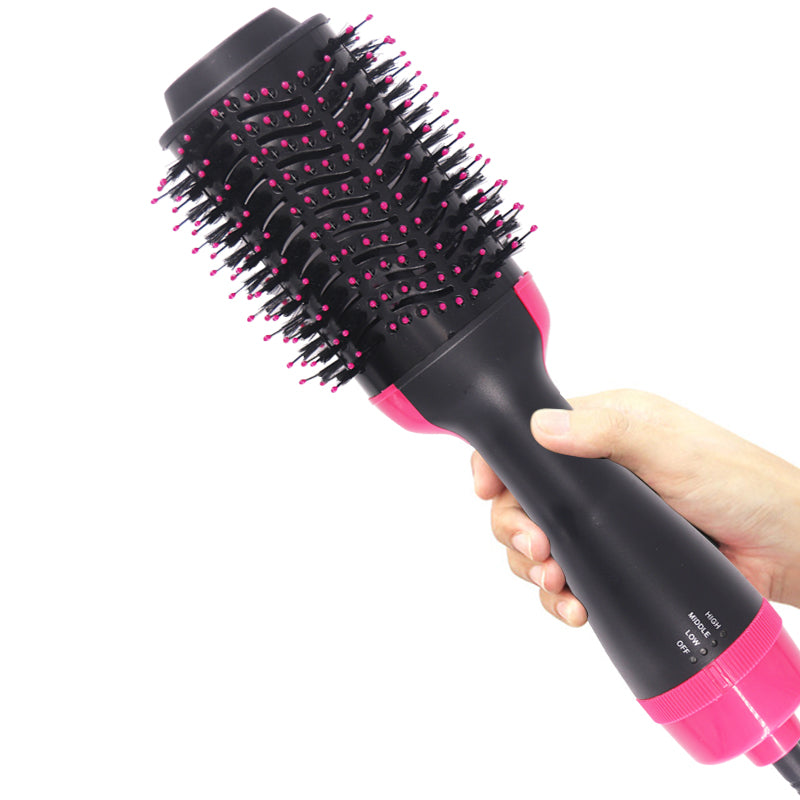 Oh my gosh I love this hair dryer! I've tried creating a blow-out at home with a round brush and a normal hair dryer, but it's just so hard. Even after lots of practicing. But the IonPro just makes it so easy. I use it 3 times a week and I feel my hair is a lot softer and looks very full. I am honestly over the moon, thank you!!
Perfect!!!!! Recommend it to all girls who love a good blow-out but don't know how to do it with a regular blow drier. This has saved me so much time (and sore arms lol) and I feel way more confident now. I actually enjoy doing my hair now.
Firstly I want to state that this is a genuine review, and normally would never write one but for the IonPro it's actually worth it.
I bought this for myself after my 20 year old hairdryer finally gave up. I cannot quite believe how good this is. I have very thick, curly when wet, frizzy when dry hair. I have always relied on straighteners to get rid of the frizz. But last year I visited my sister in NYC and went to a blow dry bar. What a revelation! My hair looked so amazing, straight but with so much body, and it lasted for days. Trying to replicate this back at home was a tangled disaster. I could just about manage the front of my hair but the back and sides were hopeless. Holding the dryer, the round brush and keeping the tension is virtually impossible to do for someone as ham fisted as me. So it was back to the straighteners which are okay but once you have a really good blow-out straighteners are a bit of a disappointment. So I wasn't expecting much from this product - but I am amazed. I sectioned my hair as instructed and away I went. It took about 10-15 minuets and my hair looks amazing (and even my husband agrees)! I could keep the tension and my hair didn't get tangled up once. I look like I just stepped out of Dry Bar. This is the best beauty purchase I have made in ages!
As someone with Fibromyalgia, I had pretty much given up on trying to blow dry my hair. The combined weight of a hairdryer in one hand and the styling brush in the other was too much for me to manage and I usually had to give up after completing a quarter of my hair.
I was initially unsure whether to order the IonPro because I was new to Sunday Affairs. However, I could not be happier that I took the plunge and ordered it.
I find it easy to hold, and the fact that you can support the other end to distribute the weight makes it very manageable. Also the customer support team was incredibly helpful when I asked a bunch of questions, so thank you!